How to walk Lake District for Ransomite
1998/4/30 TAKAHASHI Makoto
A guide for Ransomite to visit the Lake District
Approach
Lake District is located at north east of England, 5 hour from London by railway. Change trains at Oxenholme to Windermere.
Kendal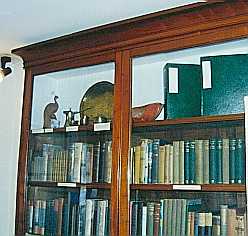 We found shop named The Swallow. Maybe there is no connection. There is River Kent. After the river, walk along this, you will find Abbot Hall. This contains Museum of Lakeland Life and Industry. One room of the Museum is dedicated to Ransome.

In bookshelf (Left photograph was taken August 1992), there are translations of Ransome Saga. We found Japanese translation also. We found the Slippers. We remembered the preface of first edition of Swallows and Amazons
To the four whom it was written in exchange for a pair of slippers.

There is The Hobbit by J.R.R. Tolkien. Correspondences between Tolkien and Ransome are recorded in Signalling from Mars and The Letters of Tolkien. There are maps of Lake District and Photographs of Arthur Ransome on the wall. There is desk of Ransome also.

In museum shop, you will find Lake District Map for Ransomite, which include 'native' name and 'real' name also. You will find reference books about Ransome, badges of 'Swallows and Amazons for ever'.

Photographs were conditioned on usage without profit 1992, but permission was not made 1994.
---
How to walk Windermere(w)
How to walk Coniston(c)