How to walk Coniston for Ransomite
© 1999.6.5 TAKAHASHI Makoto
---
Bank Ground Farm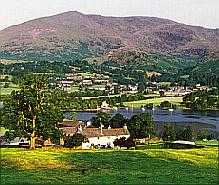 There are many view points around Coniston. It is said that Ransome stayed Yewdale Hotel in Conisto. But, Bank Ground Farm (Model of Beck Foot) is the best.
It is ordinary B & B, so you can stay there. It is easy to ignore 'declined floor', 'Only one Bath room in the floor', and 'far from Town of Coniston'.

Entrance of Bank Ground Farm is very good place to take picture. You can view Lake Coniston and Old Man (Kanchenjunga). Left picture was taken Aug 1994.
Slope declining to the lake is used in the movie. The boadhouse is also as in the movie. Pier became little bit longer. The movie was took in the house also. You can see the room where Mrs Walker said "Don't you think that was very neary like being duffers?"
TARS have events here. There is "Ransome corner" in the lobby. There is pamphlet of TARS and poster of beer of "BIG SIX" and "GREAT NORTHERN".

You can see pictures of rooms at Bank Ground Farm.
---
Dog's Home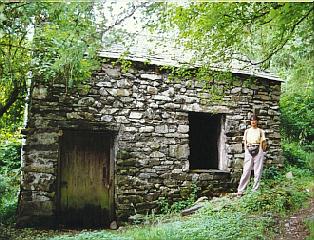 Brantwood is few minutes walk south of Bank Ground Farm. Another 1 mile (1.6 km) walk leads you to the entrance of 'Dog Home'. In the year 1994, we missed this. If you find parking place, you must go back to the entrance.

Once Dog's Home is occupied by "free" habitant, but now it is managed by TARS. Notice from TARS is as follows.

You are welcome to look around inside,
but please leave it clean and as you find it,
and with the door secured by the strings,
tied to the chain in a bow.
(as depicted in the book)
Thank you.

Right picture was taken Aug 1994.

We felt that it is darker than illustration of Ransome. There is fireplace and enough space for two children. But we felt that no children would like to sleep here alone.

Road near the lake has no good sight. So we returned to BGF via road up the hill. It is better to have 1/25,000 map with you.
---
How to walk Windermere(w) Return to How to walk Lake District(x)